Frequently Asked Questions (FAQ) about Kichwa Lodge
Where are you located?
We are located in the northeast corner of Ecuador. While there are no roads connecting to our neighbors, we are located near the borders of Colombia and Peru.
Within the Cuyabeno Wildlife Reserve, we are far removed from the majority of other tourism projects found in the reserve's western half. Therefore, a visit to our lodge means fewer interactions with other tourists.
Are you an eco-lodge?
We try our best to be!
Our lodge is built using locally harvested products with minimal impact to our primary forests. We understand that our forests are worth more as a haven for wildlife than chopped down for buildings.
As is appropriate for a lodge that wants to practice conservation, we strive to be as eco-friendly as possible. Our community participates in the #zeroplastic campaign and we encourage guests to bring their own reuseable water bottles rather than rely on individual plastic bottles of water. We practice recylcing, sending our trash outside of the Cuyabeno Reserve to Tarapoa.
We use solar electricty and would like to expand our system. Electricity is available 24-hours a day.
What are your rooms like?
Accomodations at Kichwa Lodge combine traveler comfort with the preservation of our rainforest habitat. The lodge has been built using traditional materials in the local architectural stytle to blend in with the lush surroundings.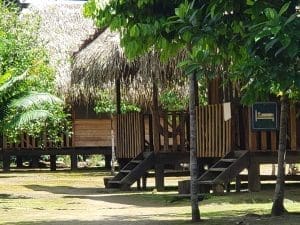 The cabins, which include single, double, and triple occupancy rooms, offer spacious en-suite bathrooms and walk-in showers.
Some of our rooms feature floor to ceiling windows for a more immersive experience. All cabins are insect-proofed and contain comfortable beds with mosquito netting. We also provide comfortable hammocks under a protect roof for resting outdoors in even the rainiest of weather.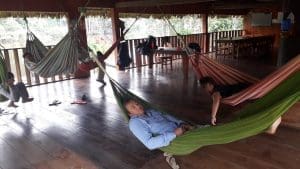 What kind of food do you serve?
We offer a mix of international and traditional Ecuadorian cuisine. Our chef is able to prepare meals for vegetarians and will cater to any special needs or food allergies. We love highlighting local products.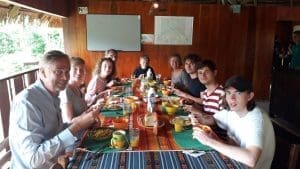 What kind of gear should I bring?
Weather in the Cuyabeno Wildlife Reserve is unpredicatable, especially with climate change. We tell people to expect rain on any day. That said, our rainy days are also warm day and some people prefer to use a rain poncho (that we provide) to heavy duty rain gear.
We also provide rubber boots up t0 to size 44 for walking muddy trails. If you would prefer to use your own hiking boots, consider bringing gaiters and plan to wash off lots of mud each evening.
We recommend that your clothes be light and quick drying. We also recommend clothes that are easily layered. Although the weather is generally warm, some guests enjoy having a warm layer for cooler evenings.
If you want a better look at animals, bring a pair of binoculars. And a camera with zoom lens is always a great item to have on hand. A day pack is helpful.
What kind of wildlife will I see?
We guarantee that you will see wildlife!
While we cannot guarantee any specific animal sighting, there is a good chance that you will see up to 9 species of monkeys, including the diminutive pygmy marmoset to the loud and racous Howler Monkey. 
In addition to monkeys, there are 50 species of bats and 60 or so other species of mammals including anteaters, sloths, and ocelots. 
It is possible to see many species of lizards and snakes, including the giant anaconda. While we do have venemous snakes in the reserve, they rarely bother humans. It is more likely that you will run into a poison-dart frog so we encourage you to be aware while hiking both day and night.
There are also tons of insects, including many colorful butterflies and grasshoppers that defy description. Spiders are best seen at night.
And that leaves us with birds – so many different species to see! From the prehistoric looking Hoatzin to the majestic and colorful Macaws, you will be glad to have brought along a pair of binoculars to better appreciate their colorful feathers.
How can I support the Kichwa Community?
There are many ways to support our community. First, we would love for you to share our website and tours with your friends and family. Most of our visitors come because someone they know recommended us.
Second, please like us on social media.
Finally, if you would like to make a donation to help our community, we can accept donations to Paypal via info@kichwaslodge.com or you can use the payment links found here.
Who are your employees?
Our employees are Kichwa community members.
At the height of our operation, we supported more than 90 families through jobs related to the Kichwa Lodge. We hope to return to those numbers as tourism returns to Ecuador.
What are your Covid guidelines?
Health and Safety Measures against COVID19: Cuyabeno has received the Safe Travels Certificate granted by the WTTC Safe Travel.
In Ecuador, tourism trips for nationals and foreigners re-opened in November 2020. In order to remain open, we must comply with very strict rules. To do this, we comply with international Biosafety standards including:
Providing Information
No mixing of different parties of guests inside the Lodge
Strictly comply with the hygiene rules like handwashing
Maintaining an appropriate social distance
Can I purchase handicrafts on my visit?
Yes! Our community offers many different handicrafts for sale. These goods use locally sourced and sustainably harvested materials. Colors come from natural dyes that we have used for generations.
Can I reserve through a travel agency?
While some of our guests arrive with their own guides or agencies, we prefer working directly with our clients. This saves our clients money as they can purchase the trip without mark-ups. Our community also benefits as we receive all proceeds from the trip to reinvest in our project and community.
Who benefits from your community tourism project?
A group of young adults started the Kichwa Lodge with the guidance and advice from community elders. We hire local Kichwa to operate the lodge so that your visit helps our local families, including those with school-age children.