Exceptional Birdwatching in the Cuyabeno Wildlife Reserve
5-Days / 4-Nights
$920 per person
Quito – Cuyabeno – Quito
updated prices for 2024
Experience Ecuador's second largest nature reserve accompanied by a professional birding guide while staying in comfort at the Cuyabeno Kichwa Lodge. This tour is designed for avid birdwatchers looking to see as many birds as possible. Even better, it includes your flight from Quito to Coca (Francisco Orellana) and one night of lodging in Quito BEFORE your trip. 
This Cuyabeno Birdwatching Tour can be altered to accommodate photographers, birdwatchers, and/or naturalists who prefer a more relaxed approach to birdwatching. Let us know when requesting reservation information below!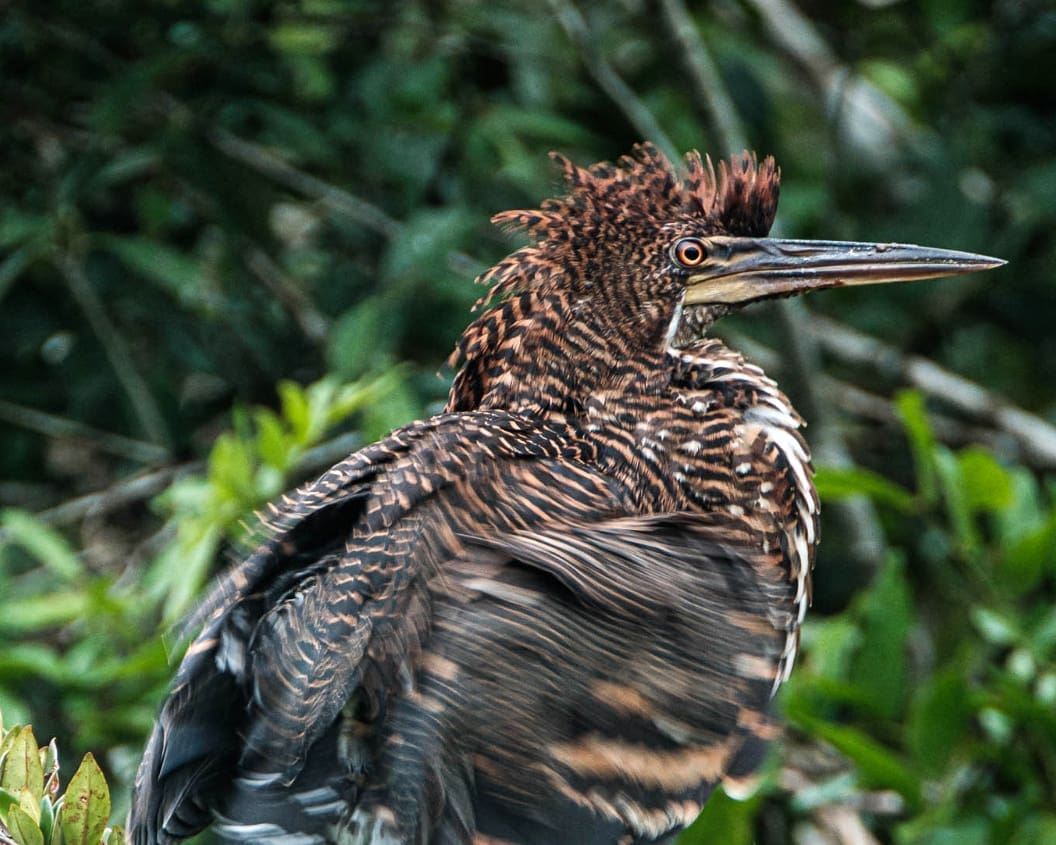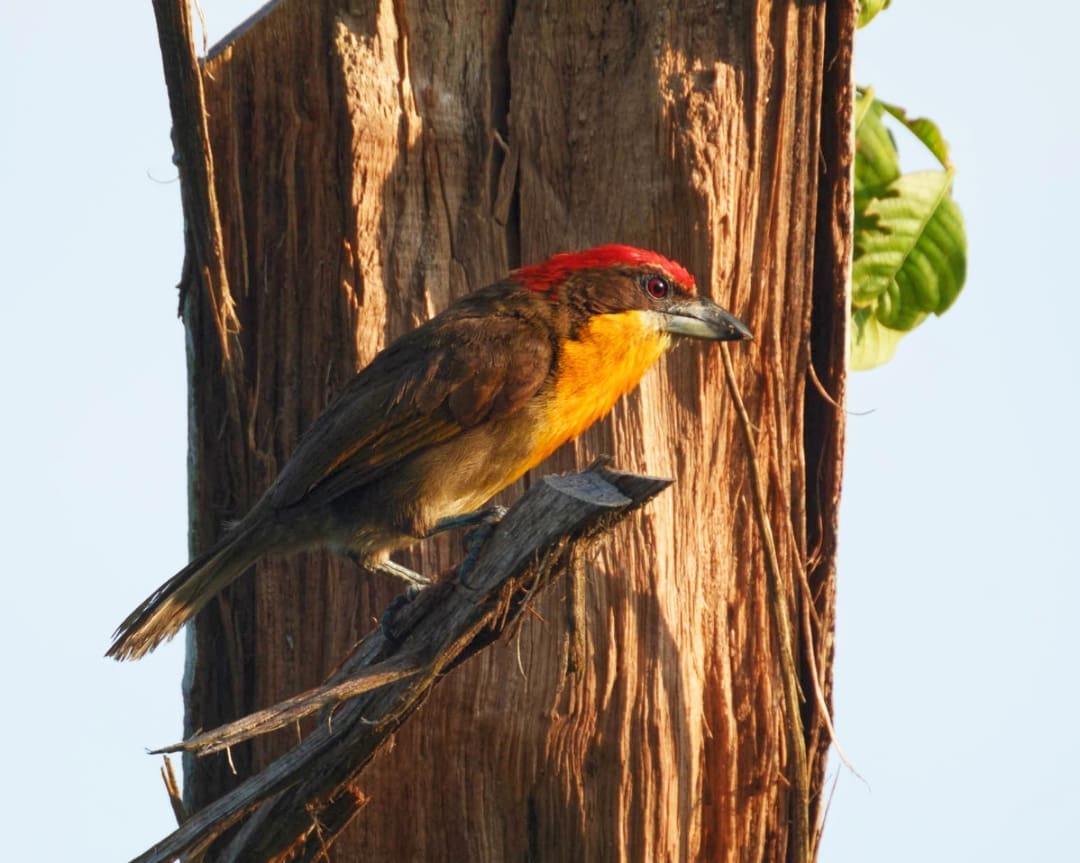 Cuyabeno Birdwatching Opportunities with the Kichwa Lodge
During your 5-day / 4-night visit, we will tour a wide-variety of habitats including:
Our major tributaries the Rio Cuyabeno and the Rio Aguarico
Seasonal lakes with their ever-adjusting muddy shores
Quiet black water streams, and
Unique wetland and forest habitat not found in other Amazonian destinations.
If you would like even more time birdwatching, we suggest requesting our Complete Cuyabeno package and request a birdwatching focus.
…and more Cuyabeno Birdwatching
In addition to birdwatching from our canoe, we will also:
Climb a 35-meter high tower where a Harpy Eagle often comes to perch
Meander a loop trail around our lodge where secondary forest gives way to the jungle,
Observe parrots and parakeets at a local clay lick.
Hike a long trail that will allow us to compare the Cuyabeno pantano (swamp and wetlands) with the reserve's higher terrain.
Naturally, if a full-day hike in warm climes is not to your liking, alternate plans include a full-day canoe tour to the Zabalo River. Alternatively, do even more by requesting an additional day or two to your trip!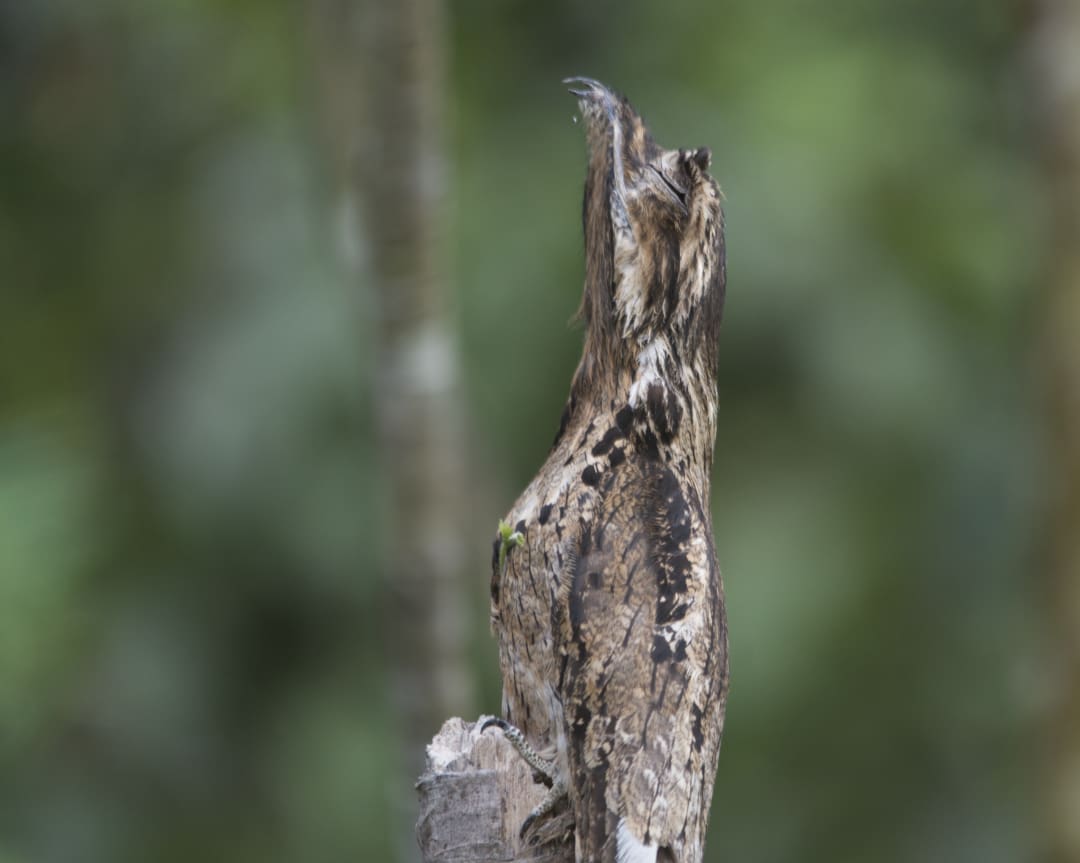 Along the Shore
During our travels to and from the Cuyabeno Kichwa Lodge, we will find ourselves on the Rio Aguarico. When traveling by motorized canoe, it is possible to spot many different species of birds in trees alongside the river, on stumps sticking out of the water, and on muddy shores and sandbars. Some species we hope to see are: Hoatzin, Long-tailed Potoo , Great Potoo, Sand-colored Nighthawk, Pied Lapwing, and more.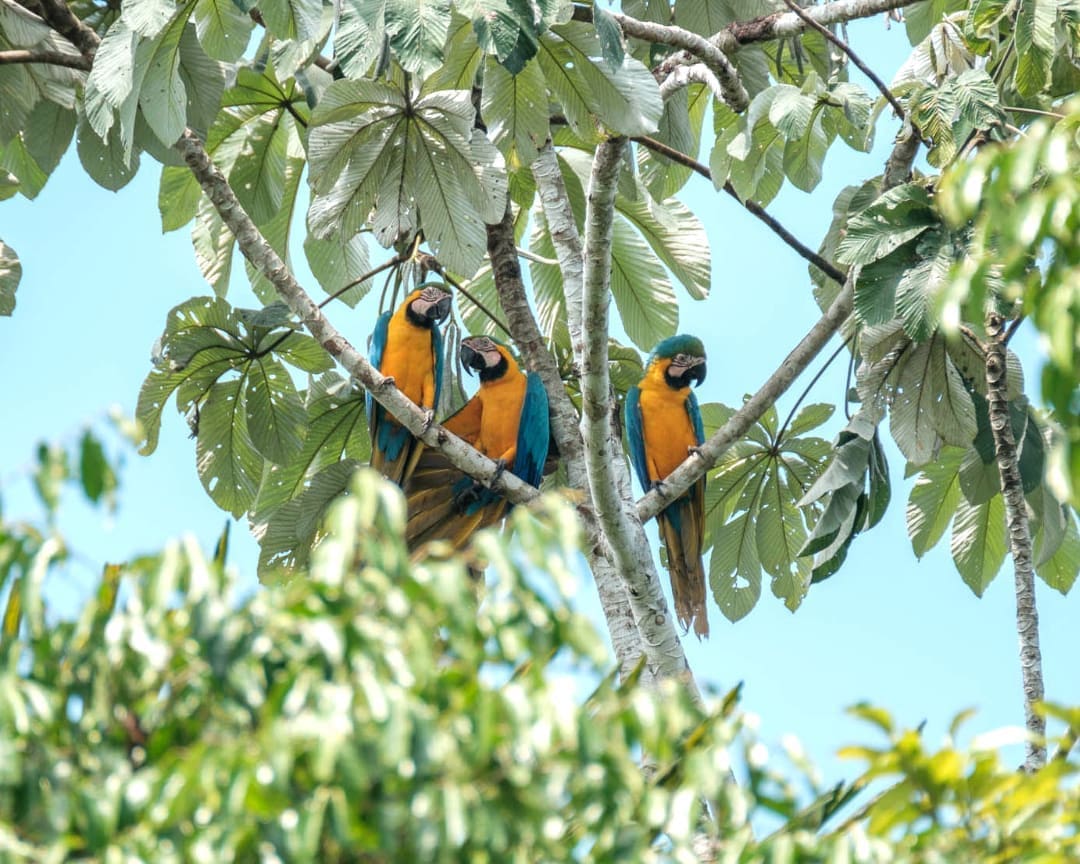 Kichwa Lodge and Trails
Around the lodge and on our loop trail, we have secondary forest that gives way to primary jungle. Within the immediate area, we will many birds that often include: Blue-throated Piping Guan, Solitary Black Cacique, Salvins Curassow, Marbled Wood-quail, Great tinamou, Blue-and-yellow Macaw, Scarlet Macaw, White-lored Antpitta, Gilded Barbet, Bare-necked Fruitcrow, and Great Antshrike.
Additionally, in the early morning hours just before dawn, it is very common to observe owls including the striking Crested Owl.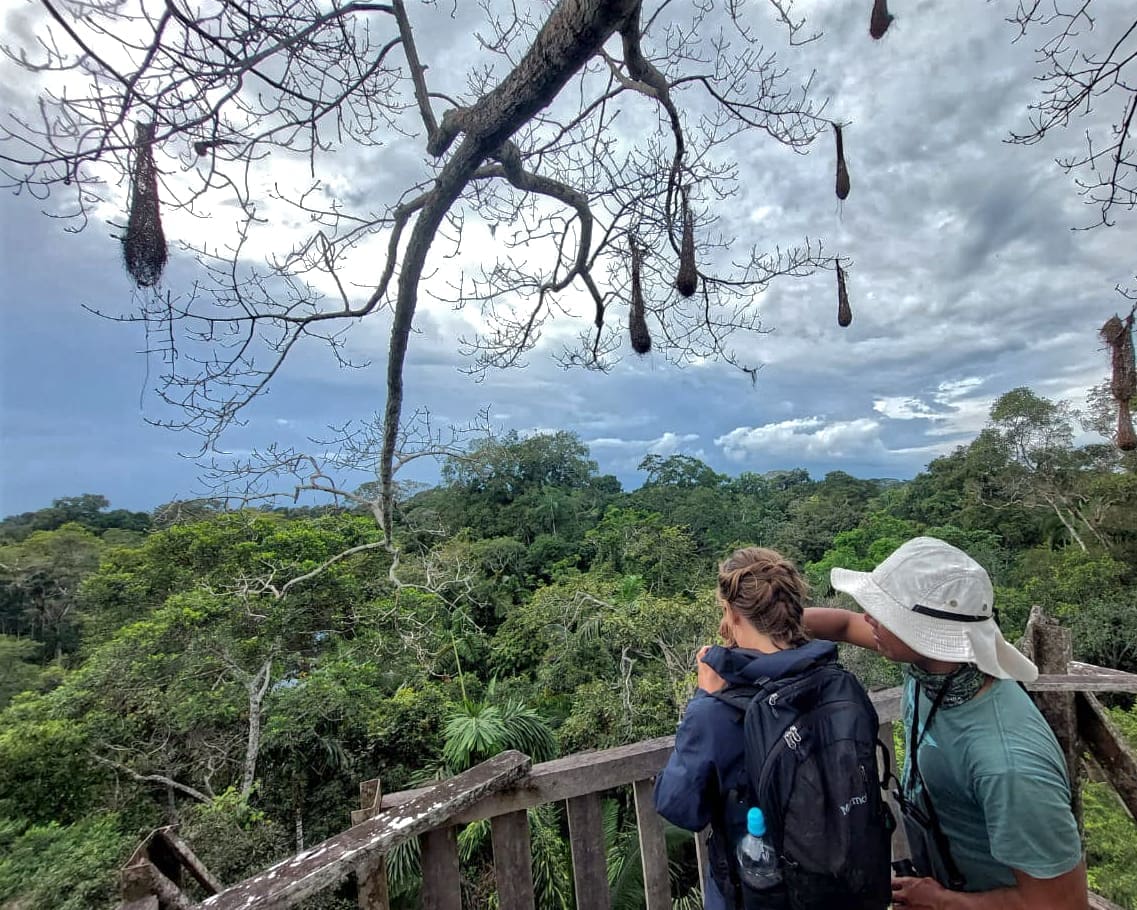 Kichwa Birdwatching Tower
Approximately 35 meters tall with several viewing platforms at differing heights, the Kichwa Birdwatching Tower grants us views into and above the tree canopy.
Therefore, we can spot raptors like Harpy Eagle that hunt for monkeys and sloths, high-soaring Swallow-tailed Kite, and Oropendula clinging to their hanging nests. Likewise, we will observe mixed flocks of fruit eaters that can include Plum-throated Cotinga, Blue-crowned Trogon, Amazonian Trogon, Cream-colored Woodpecker, Blue-backed Manakin, Masked Crimson Tanager, as well as barbets, toucans, and more.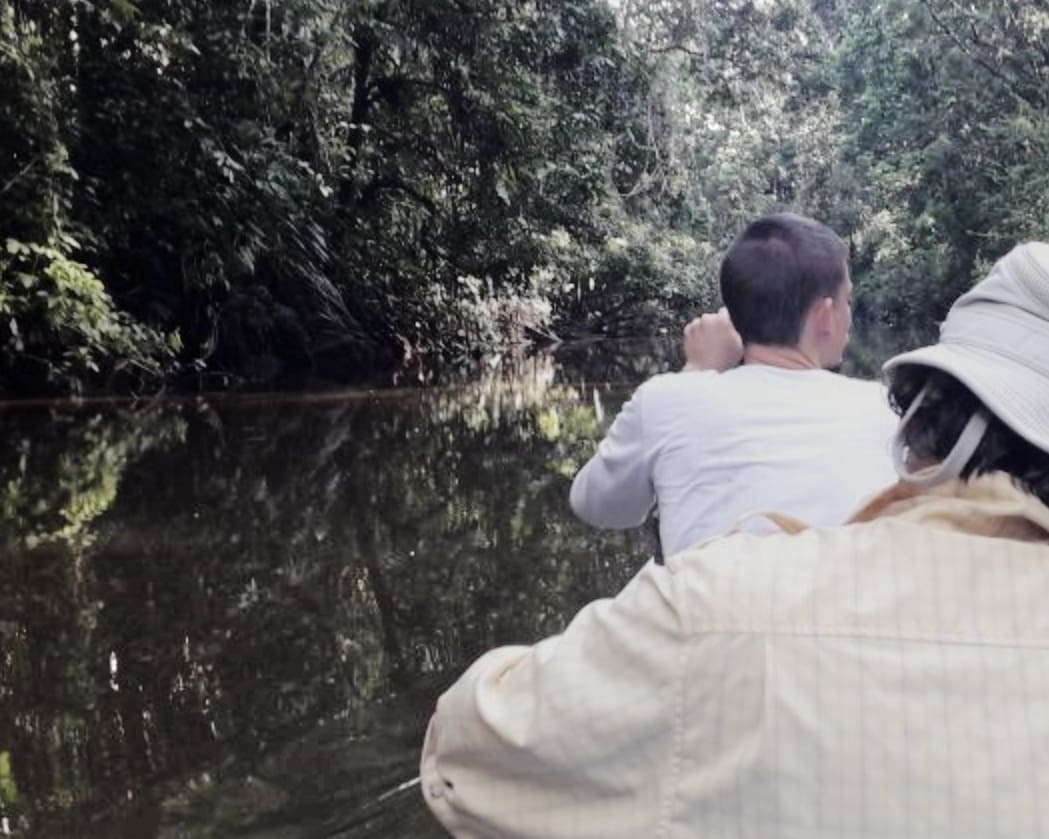 Backwaters
The Cuyabeno Wildlife Reserve is a giant wetlands with multiple types of habitats including seasonal lakes and black water steams where we can observe Amazonian Kingfisher, Sunbittern, Drab Water Tyrant, Agami heron, Rufescent Tiger-heron, and Sungrebe, to name a few. Of course, we might see some of these birds on the wider rivers. However, heading into the quieter backwaters without a motor makes them easier to observe and photograph.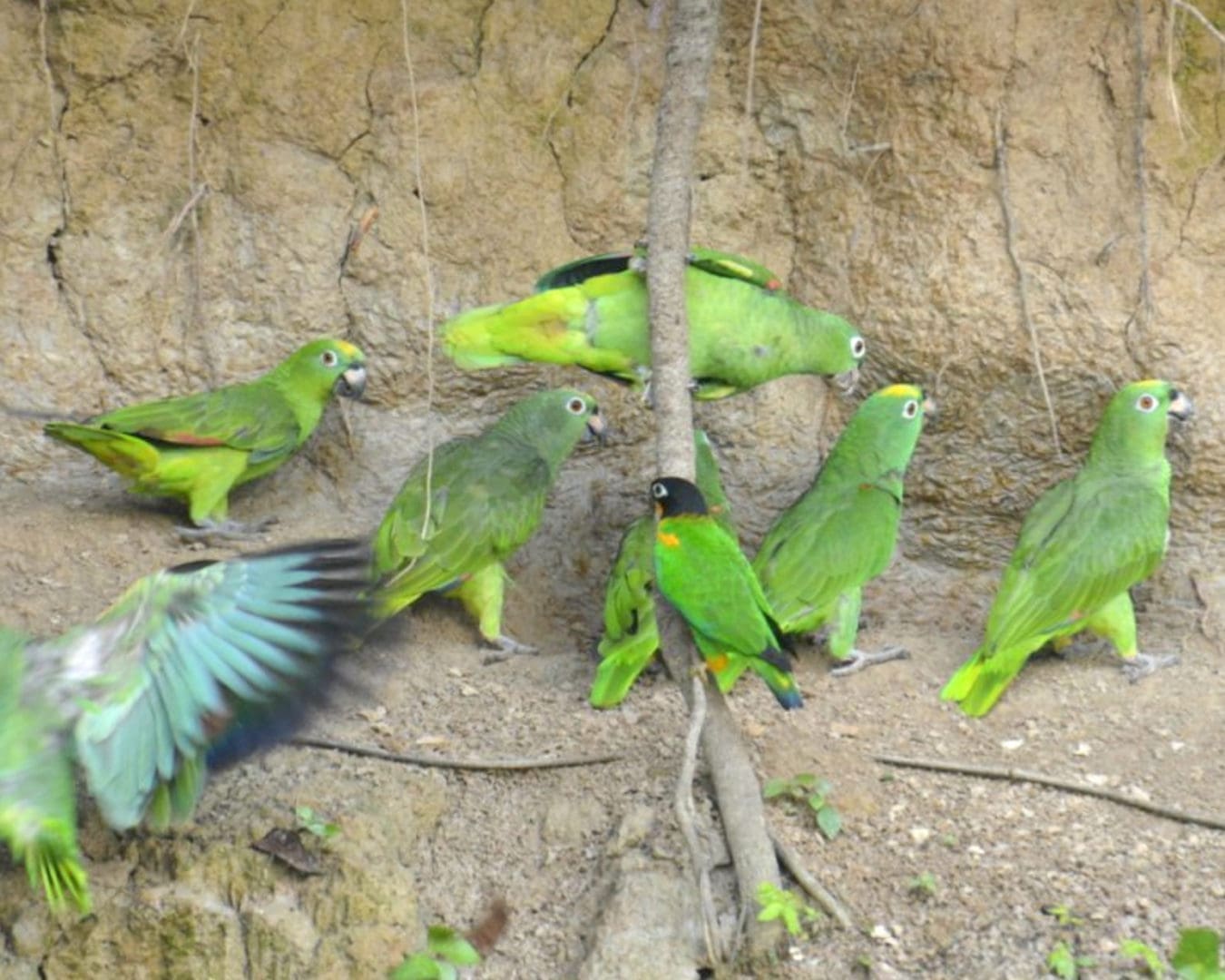 Birdwatching requires flexibility. Therefore, we offer a general idea of the places we will visit on your tour without a schedule or detailed itinerary. We know that new sightings of highly desirable birds take precedence!
With your help, we hope to expand our list of sightings and include links to new eBird lists in the future.
For now, we are one of Cuyabeno birdwatching's best kept secrets in the Amazon.
This Itinerary Includes
Pick up at the Quito International Airport the day before this trip begins (please inform of us of your flight number and arrival time upon booking)
One night of lodging in Quito at Hostel Alpachaca BEFORE the official first day of this itinerary.
Pick up at the Hostel Alpachaca and transport to the Quito Airport for your flight to Coca; further assistance at the airport.
Flight to and from Quito to Coca
Land and river transport from/to Francisco Orellana International Airport in Coca to our lodge.
Tour Guide who speaks English, Spanish, and Kichwa (if you require another language, we can hire another guide at additional cost)
On the Cuyabeno-Yasuni Combo Tour a local, indigenous guide who knows the flora and fauna of their region will join your group.
Lodging & Meals, including purified water and hot beverages
Rain ponchos and rubber boots for your stay.
Not Included
Professional Birding Guide (available at additional cost)
Tips for guides, drivers, and staff
Alcholic beverages
Travel insurance
Suggested Items to Pack
Headlamp or flashlight, waterproof 10x42 binoculars, lightweight clothing, long pants (not shorts), sunscreen, sunglasses, mosquito repellant with Deet, your personal medications, and US currency in small bills or coins.
Payment for Tours
Western Union or International Bank Transfer:
We will send banking information after confirming the dates for your reservation.
Specialized Guides
Naturalist Guide who speaks French or German: $110 per day
Specialized Birdwatching Guide, available with advanced notice in English, French, or German: $130 per day
Reservation Policy
Reservations must be made with 3 months advance notice; last minute reservations will be charged an additional fee.
This itinerary is priced per person. However, a minimum of two people are required to make a reservation. If you are a single person wanting to schedule this trip, the single person upgrade is the equivalent of 30% above the advertised price. 
Children under 5 years of age stay free in the same cabin as their parents. However, we will charge for a roundtrip ticket to-from Quito-Coca. Children 5 years and older pay full price.
We can arrange small group tours for 6-12 people at a time. Contact us about pricing.
Entrance to the Kichwa Lodge is possible every day of the week except for Sundays.
Reservation Request for Exceptional Cuyabeno Birdwatching
Would you like to make a reservation? Please fill out this form. If this is an urgent request, please contact us directly via WhatsApp at +593 96 073 6216.
Your Title Goes Here
Your content goes here. Edit or remove this text inline or in the module Content settings. You can also style every aspect of this content in the module Design settings and even apply custom CSS to this text in the module Advanced settings.